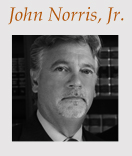 John S. Norris, Jr., the President of the firm has been practicing law in the Norfolk/Virginia Beach area for the past 33 years. After graduating from the Washington and Lee University School of Law, and serving a clerkship for Justice A. Christian Compton of the Virginia Supreme Court, Mr. Norris commenced private practice with the firm of Williams, Worrell, Kelly & Greer in Norfolk, Virginia, where he became a partner in 1981. Since that time, Mr. Norris' practice areas have centered on commercial litigation, primarily in the fields of insurance, construction, condemnation, securities and other business disputes.
---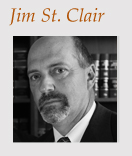 James P. St. Clair has been practicing law in the Tidewater area since 1984. He began his practice as a law clerk to Judge J. Calvitt Clarke Jr., with the United States District Court for the Eastern District of Virginia. Mr. St Clair's practice areas include insurance litigation, fire damage claims and personal injury law, including medical malpractice and products liability.
---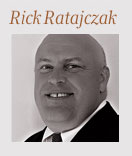 Mr. Ratajczak has been practicing law in the Hampton Roads area for over 20 years. Previously with the Decker law firm, Mr. Ratajczak joined us in 2011. His area of specialty includes personal injury, criminal, traffic, immigration, real estate closing and corporate formations. Mr. Ratajczak has a BA in Finance from Michigan State University, and earned his JD at Syracuse University College of Law.
---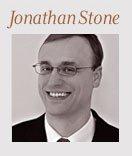 Jonathan Stone joined Norris & St. Clair, P.C. in 2011 and has been practicing in the Hampton Roads area since 2007. Mr. Stone earned a B.A. in Political Science from High Point University, completed his Masters of Public Policy from American University, Washington, D.C., and earned his law degree at the Catholic University of America, Columbus School of Law in Washington, D.C. Jonathan L. Stone has been recognized by "Virginia Super Lawyers" Magazine in its Rising Star edition in the area of "business litigation" for 2014. More than 18,000 Virginia lawyers are invited to participate in the nomination process. Only 2.5% of the total lawyers in Virginia are selected as Rising Stars. Mr. Stone has also been recognized as a Top 10 Under 40 for the National Academy of Personal Injury Attorneys for 2014. The NAOPIA awards Top 10 Under 40 to those attorneys that have demonstrated an extraordinary amount of expertise and success in Personal Injury law. Mr. Stone's practice areas included commercial, construction, business, employment, personal injury, bankruptcy and creditors rights, and criminal law.