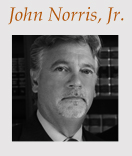 Norris & St. Clair, P.C., a Virginia Beach civil litigation firm, is pleased to announce that its principal member, John S. Norris, Jr., has been selected for inclusion in the 2014 edition of "Virginia Super Lawyers" Magazine in the specialty of construction law. Mr. Norris also has previously been named by his peers through a poll conducted by Virginia Business Magazine as one of the state's "Legal Elite" in the field of construction law and has also been named to the 2014 edition of "The Best Lawyers in America." Mr. Norris is a graduate of the College of William and Mary and the Washington and Lee University School of Law. In addition to construction law, his practice includes eminent domain, business disputes and complex commercial litigation.
---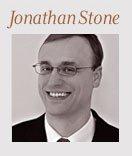 Norris & St. Clair, P.C. is also pleased to announce that Jonathan
L. Stone has been recognized by "Virginia Super Lawyers" Magazine in its Rising Star edition in the area of "business litigation" for 2014. More than 18,000 Virginia lawyers are invited to participate in the nomination process. Only 2.5% of the total lawyers in Virginia are selected as Rising Stars. Mr. Stone has also been recognized as a Top J O Under 40 for the National Academy of Personal Injury Attorneys for 2014. The NAOPIA awards Top 10 Under 40 to those attorneys that have demonstrated an extraordinary amount of expertise and success in Personal Injury law. Mr. Stone's practice also includes construction, business litigation and all aspects of general civil law.